THE BEST HIKING TRAILS IN VALENCIA (SUITABLE FOR CHILDREN)
---
Valencia Hiking Routes
The Comunitat Valencia is full of beautiful cornersso many that you may not have visited them all. In times of Covid, in addition to supporting local tourism, we can know many destinations and plans to do in our own city.always respecting responsible tourism.
Despite the current situation that Covid-10 has implemented for us such as the use of masks or keeping safety distances, we can spend a different day and escape from routine with our little ones in healthy environments 😉.
Vía Verde Mar Route, Castellón 
The Greenway Benicàssim and Oropesa del Mar in Castellón is a simple but beautiful route, perfect to do with the whole family. You can also do it by bike with them, as it is a practically flat terrain. 
This route is done in about 11 kilometers, being able to make some variant with almost 13 kilometers long to visit coves such as the Rector, Cala Oropesa la Vella or the set of coves of La Renegà. 
It also has a large tunnel passage, sea views or the possibility to go down to the coves. 
Note: although the Greenway is very wide, cyclists have their space and it is advisable to be careful with the little ones to avoid any mishap. 
Walk along the Sot River (Sot de Chera), Valencia 
A route suitable for baby strollers. 
This is a simple river route near Chulilla. Of low difficulty, with low slope and that offers us the charm of going along the river. 
It also has multiple rest areas and you can do it in just an hour and a half. 
Los Chorradores de Navarrés, Valencia, Spain
A simple and fun route in the direction of Quesa, about 3 kilometers approximately, that you can do with the whole family. 
A trail where you will find the Fuente Clara, the Chorrador, a path of vegetation, several waterfalls and the well of the Quebradas. 
A protected natural area that is a pleasure for the senses and that brings us closer to the impressive waterfall that gives its name to the place.
The route of the Pantano de Tibi, Alicante 
In this route you will be able to do only a part of it with the trolley. 
It is one of the oldest reservoirs in Europe and is hidden between the municipalities of Tibi and Xixona. 
You have 2 options to do it. We tell you about them: 
Route 1 - Reservoir dam (from Xirau service station)
With 3 kilometers of route, it is a route with a paved road, which in about 4 kilometers will lead us to the road that prevents access to vehicles. 
Walking from the barrier we reach the Montnegre River, the lower part of the reservoir dam. 
Route 2 - The north shore of the reservoir (from Tibi)
With 300 meters of route, in this case we will access by car or on foot from the town of Tibi. 
On this route we can not access the dam, but we can enjoy beautiful views of the entire reservoir, with the possibility of going down to the shore of it. 
La vuelta de la Hoz, Castellón 
We are talking about an easy and at the same time beautiful walk along the Palancia river. 
In a route of approximately 5 kilometers, it is perfect to spend a day in the middle of nature. Along the way you will find rest areas with swings for the little ones and a picnic area. 
One of the reasons that make it different from other walks or routes is that in just a few meters we go into nature without any noise or traffic that disturb us enjoy nature.
La Peña Cortada in Chelva, Valencia, Spain. 
You can make this wonderful route between caves starting from the Calles or from the parking at coordinates 39.7508548, -0.9710069, passing a detour that comes after the bullring of Chelva.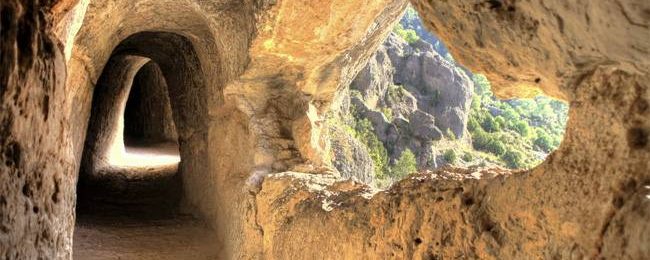 During the route you will pass through an aqueduct or bridge that saves the ravine, the cut rock, tunnels, a lime kiln and a point near the high point next to the ravine of Más de Solaz. 
With about 8 kilometers of route counting round trip, this is one of the most spectacular and preferred by hikers and also has a low difficulty. 
Route through the Cuchillos de Contreras, Valencia, bordering Cuenca. 
A route suitable for strollers if you park at the Finca Privada Mirasol. 
Los Cuchillos de Contreras is a beautiful route to see large slashed formations, a place with a very simple path full of riparian forests, Mediterranean scrub, pines and numerous fauna. 
A walk of 8 kilometers that you can cover in less than 2 hours 😉.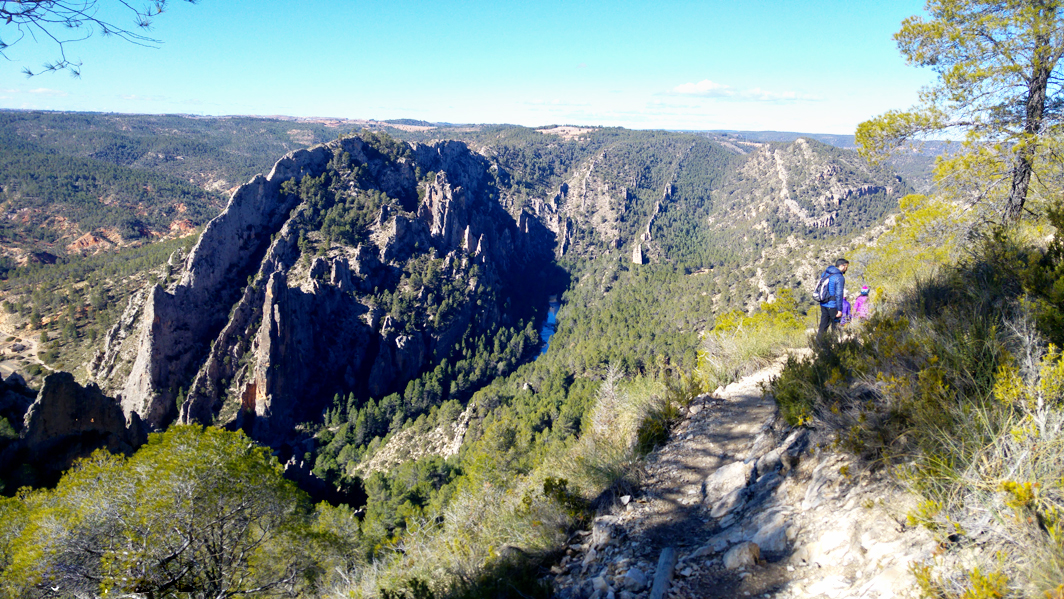 It also has a diverse fauna such as eagles, squirrels and sometimes mountain goats. 
Las Fuentes del Algar (Callosa d'en Sarriá), Alicante 
It is a small route that you have to pay to access, but you will enjoy it a lot with the little ones. 
It is made up of a group of waterfalls connected by small aquatic channels or rivers (where we can swim if the weather is good). These natural pools are a great tourist attraction.
With a route of about 12 kilometers, the trail is very well signposted and perfectly conditioned with picnic areas, a first aid post and security personnel to guarantee the conservation of this exceptional natural enclave. 
We remind you that caring for the environment is more important than ever. Together we can do it.
 you can FOLLOW US on Social Networks
 - DON'T MISS ALL OUR NEWS - 

Valencia Hiking Routes 
"You may also be interested in this article of The Best Coves in Valencia