Easter is very near and with it the enormous desire of millions of Spaniards to take a few days of vacation. Many of us are planning to travel somewhere in our country to disconnect with family or friends.
This year, Spaniards are expected to spend more money than in previous years to treat themselves this Easter.
According to a study, 4 out of 10 Spaniards will travel this year. If you still don't know which destination to choose, here are some that you will surely love.
📍FERROL
It is one of the most important during Holy Week.
Located in A Coruña, is one of the ten most emblematic Holy Weeks in Spain.
It has a duration of 8 days in which you can see up to twenty-five twenty-five large processions, processions, in which both the town and its visitors get completely involved. Especially on Holy Thursday, Friday and Holy Saturday.
In addition, if you come to Ferrol you can enjoy some beaches with fine sand to spend a relaxing time by the sea.
📍OCAÑA
This is a special procession, as it is celebrated completely in silence. It is located in Toledo and has been celebrated in this way for more than 400 years, with a sepulchral silence that moves all those who come to see it.
One of its peculiarities is that on Good Friday its Nazarenes march with bare feet.
Ocaña is a town with one of the most important one of the most important monuments of Castilla-La Mancha.

📍VALVERDE

DE LA VERA
A small Extremaduran village of about 500 inhabitants, but with one of the most important historical cone of the most important historical centers of the autonomous community.
We highlight its procession of Maundy Thursday, when the rite of the Disciplinantes or Impalados takes place, which dates back to the Middle Ages.
📍MEDINA

DEL CAMPO
Located in Valladolidhas a total total duration of ten days, although we must emphasizealthough we must emphasize that of Holy Thursday.
This day is when the brothers walk only with their habits and a candle, and they do it in absolute silence that can only be broken by the drums.
In addition, Medina del Campo has an endless number of points of great tourist interest, among which we can emphasize the Castillo de la Mota or the Royal Testamentary Palace.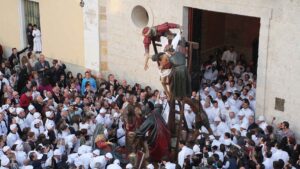 📍JUMILLA
One of the most beautiful villages in Murcia and has more than 600 years of history and has more than 3,000 Nazarene more than 3,000 Nazarenes and about 20 brotherhoods.
It is one of the most awaited dates by all the inhabitants of the town, especially the children, since in some of them sweets and candies are handed out.
📍TOBARRA
Located in Albaceteits holy week is well known for its well known for its drums, that beat for more than 100 hours during these days.
Every year, some 30,000 people come to see this spectacle.
📍CREVILLENT
One of the towns of Alicante in which the holy week is celebrated in its maximum splendor.
Thousands of people come to see its processions and all the rites that accompany them.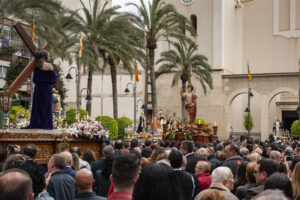 📍CABRA
Located in Andalusia, is one of the autonomous communities in which Holy Week is celebrated with more fervor. More specifically in Cordoba this beautiful town is located. 
The village of Cabra is full of white houses whose white houses whose balconies are full of flowers at this time of the year.. 
It is famous for the passion of its inhabitants celebrating Holy Week; its streets are filled with people watching the processions almost at all hours. 
📍ASTORGA
In Castilla y León, it is one of the towns that celebrates Holy Week in style. During the ten days that this festivity lasts, the brotherhoods and eight brotherhoods participate in it, leaving body and soul in all the processions and festivities.
We can highlight the well known Procession of the Holy Burial, the place where the Unenclaving of Christ takes place.
Have you visited any of these villages at Easter? Let us know what you thought 😉
👉🏡 If you are looking for housing you can also have a look at our page